Have you ever wondered what it is like in the Upside Down? If you make your way to Stranger Things – The Encounter: Singapore, you'll not only experience what it's like, but battle the evil Vecna while you're at it too.
There are also plenty of other activities to look forward to, so if you're keen on immersing yourself in the world of Stranger Things, here's a list of things you can expect at Stranger Things – The Encounter: Singapore.
---
1. Step into iconic locations of the show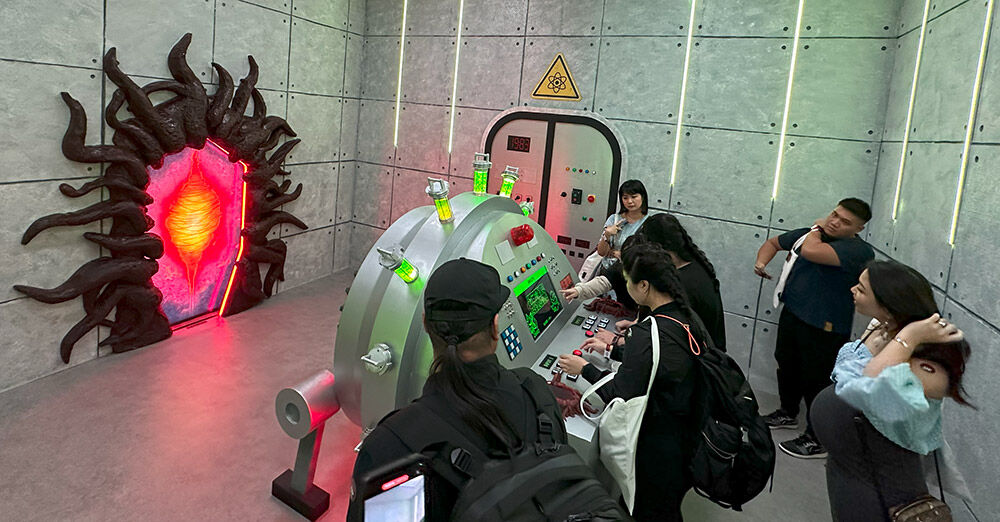 Step into iconic locations seen across the four seasons of the popular Netflix show. Try to decode Will's message in Joyce's living room, solve puzzles at the Hawkins National Laboratory, have chills run down your spine when you enter the Creel Home and finally, come face to face with Vecna himself in the Upside Down.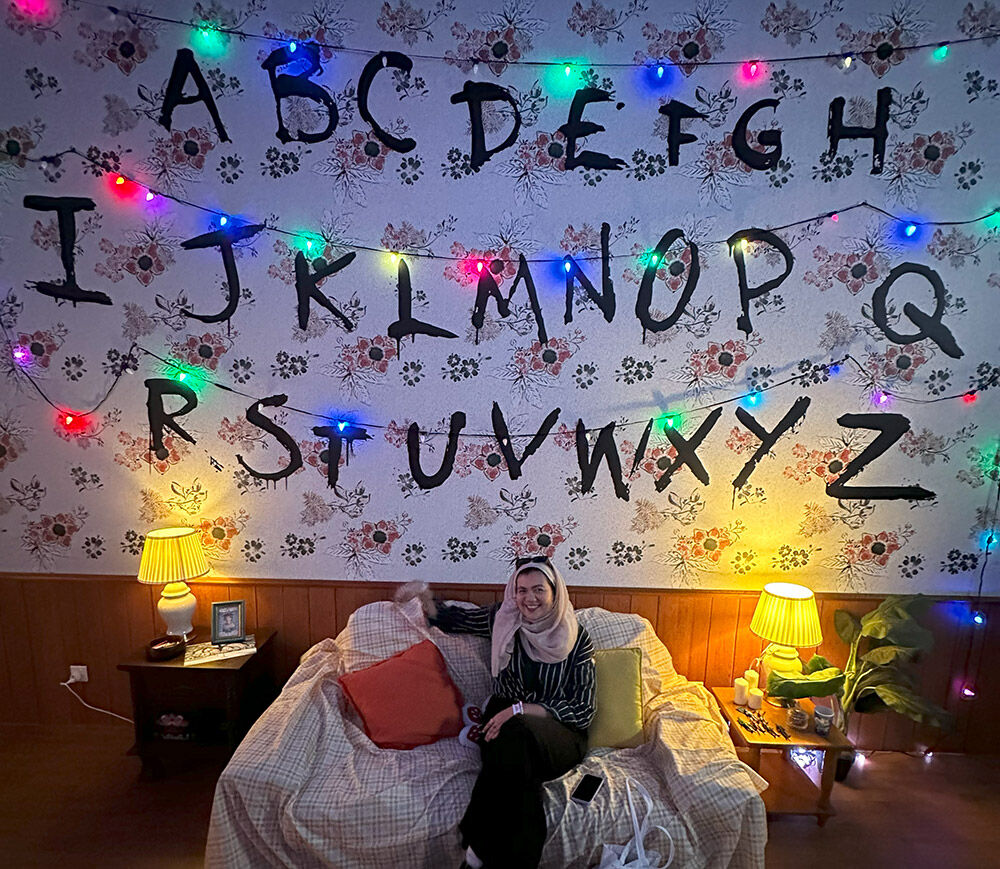 PS. Before you enter the event space, you will be given a wristband to collect special digital stickers and elements along the way. Make sure you pay attention and keep your eyes peeled – they're very important!
---
2. Shop till you drop at Starcourt Mall
Look, if you're coming to Stranger Things – The Encounter: Singapore, be prepared to spend. Starcourt Mall is an absolute dream for fans who want to get their hands on exclusive Stranger Things merch. We're talking light-up VHS tapes, art posters, plant pots, t-shirts, towels, plushies, stationaries and more! There are also blind boxes from Mighty Jaxx of the various demopets that are way too adorable to pass up on. An absolute dream for any fan, but a nightmare for those on a budget – so make sure you come prepared. Don't say we didn't warn you!
---
3. Have a lick at Scoops Ahoy
Presented by Burnt Cones, Stranger Things fans with a sweet tooth will be delighted to enjoy a scoop or two from the show's Scoops Ahoy. With local flavours like Milo Dinosaur and premium flavours like Pistachio or Dark Chocolate, fans can have their desired gelato in a cup, on Eleven's favourite Eggo's waffles or Eddie's Hellfire Cone.
---
4. Enjoy a slice of pizza, Brochachos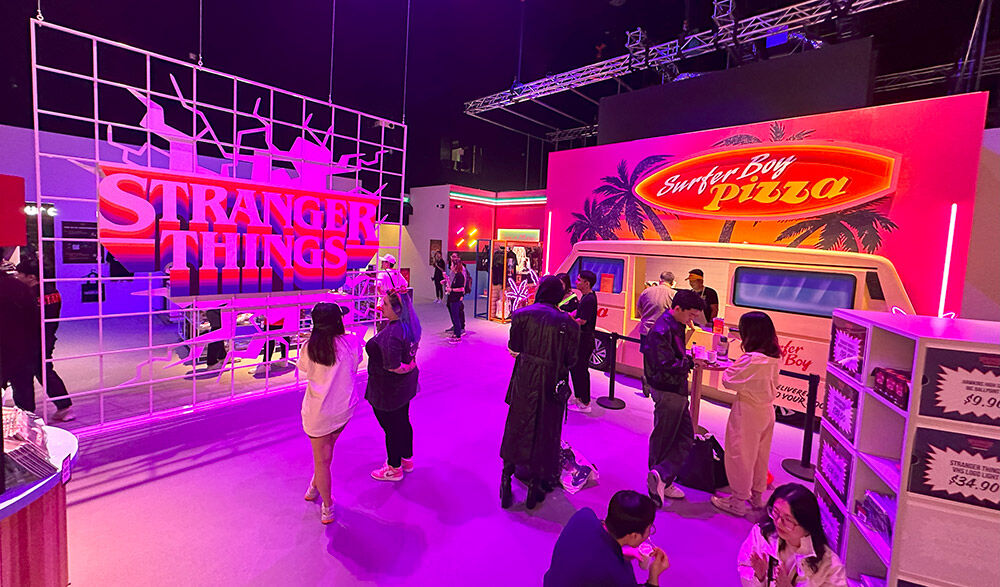 Surfer Boy Pizza is brought to life by Papi's Tacos in Starcourt Mall. At Surfer Boy Pizza, you can enjoy a slice of pizza – or even two! There are plenty of options to choose from like 'Singapore Stranger', a pizza with a local twist featuring braised beef brisket and rendang sauce. Surfer Boy', a pineapple, chicken pepperoni and pickled jalapenos pizza and the 'Hellfire Club' which comes with chilli oil atop mozzarella cheese, sundried tomatoes and more.
---
5. Take a special customised gift home
Remember how we said the wristbands are important? Well, when you're done shopping, eating and celebrating victory against Vecna with your friends, head over to the customisation station where you can design your own t-shirt (S$39.90) or tote bag (S$29.90) to take home. It's a unique gift that no one else but you would have so we'd highly recommend getting it if you're nostalgic and are looking for a piece of merch to purchase to commemorate your eventful day.
The wristband tells the staff what stickers you've collected throughout your experience (and by this time you can't turn back to collect more), and you can choose up to five elements to design your tote bag or t-shirt with. These elements can range from backgrounds of Joyce's home, the Rainbow Room, the Arcade or the Upside Down itself, as well as various demopets or popular items seen throughout the series like a box of waffles, Max's walkman, Eddie's guitar, polaroids of the Party, bicycles, spider-webs and more. Best of all, you can even print your name on the front of the t-shirt or tote bag.
---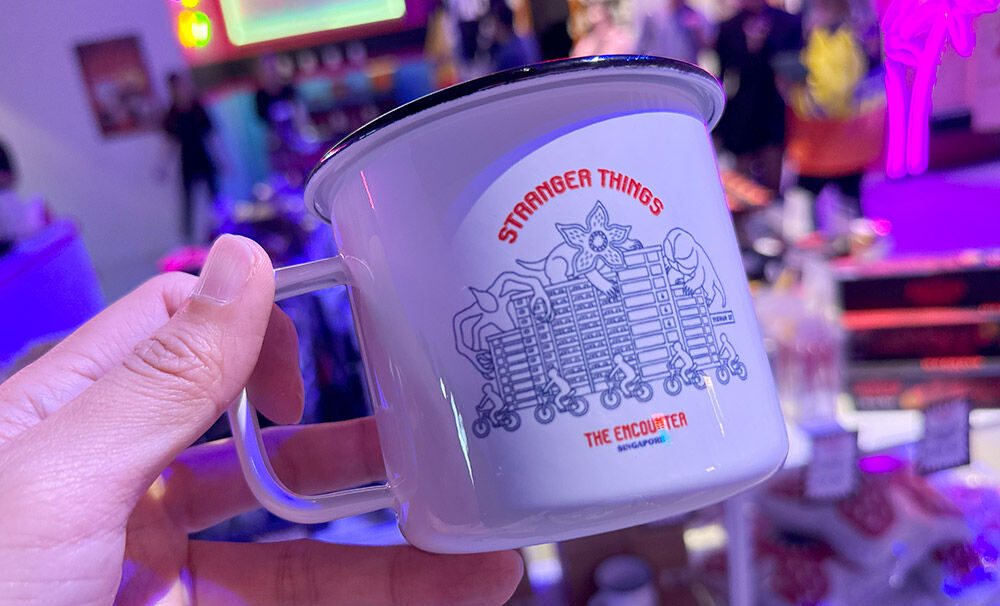 Stranger Things – The Encounter: Singapore takes place from 30 June to 1 October 2023 and is located at Bugis+, Levels 2 and 7 from 2pm to 10pm on Weekdays and 10am to 10pm on Fridays and Weekends.
The Encounter on Level 7 spans roughly 45 minutes and tickets are priced from S$39 per person or S$109 for a Priority Pass Ticket that includes an exclusive merchandise bundle. The Starcourt Mall Area is priced at S$15. The Visitor Center is free to enter and is located on Level 2.