We know every legend has a beginning, but only one has a Padawan in Ahsoka Tano. Wait, who now?
If your knowledge of Star Wars is only from the live-action films, there's a lot you need to catch up on, with the upcoming debut of Star Wars: Ahsoka on 23 August on Disney+.
First introduced in Star Wars: The Clone Wars (2008), Ahsoka is the padawan of Anakin 'Darth Vader' Skywalker, and if you thought the Master/Padawan relationship between Anakin and Obi-Wan Kenobi was tragic, you don't know your blue lightsaber from your purple one. Ahsoka spent the majority of her life as an animated character in The Clone Wars animated series until she was brought to live-action by actress Rosario Dawson in 2020's The Mandalorian.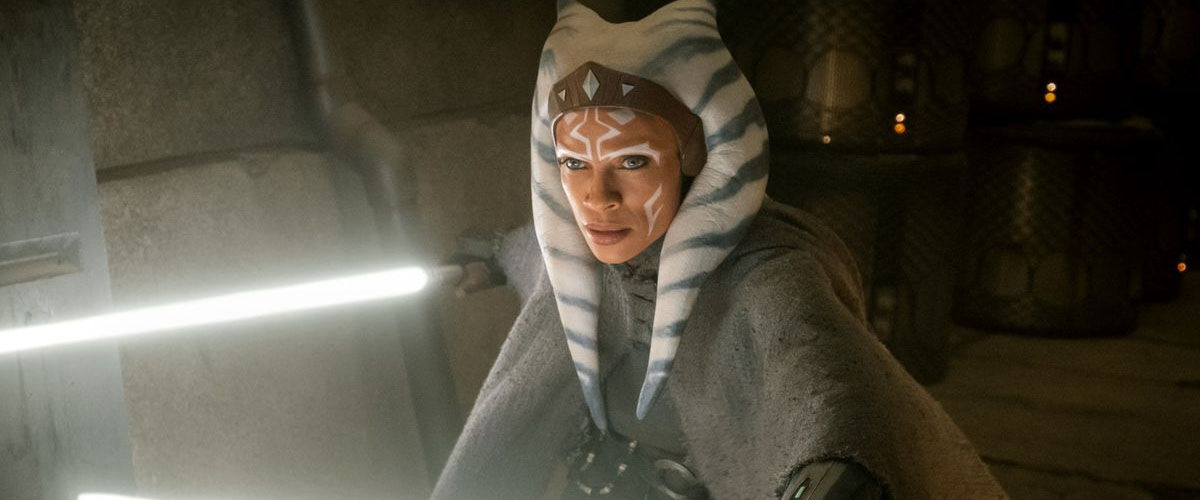 That 12 years worth of animated stories to familiarise yourself with, to find out how she went from an eager-eyed child to renouncing her Jedi teachings. Bear in mind, this additional homework is not necessary in order to catch Ahsoka, as series creator Dave Filoni has said that Ahsoka is a continuation of the character's journey thus far, and no prior knowledge of The Clone Wars is required to relate to the character, but as fans, we must say it adds to the experience. 
And will it be an awesome one, especially since audiences have only seen Ahsoka and Anakin together on screen in animated form, so the series will mark the first time that Ahsoka and Anakin will be together on screen, in live action. Yes, Hayden Christensen is returning as Anakin!
To prepare yourself, here's an extensive list of episodes and movies to catch (thanks to Reddit user I_AmNoJedi), to answer the question, Who is Ahsoka Tano? We've even thrown in a book that you can read, if you've got time to spare too. 
---
The Beginning
Tales of the Jedi Season 1 Episode 1 
Just like all of us, Ahsoka was first a little baby. Episode 1 of Tales of the Jedi depicts one-year-old Ahsoka on a hunt with her mother to learn about life and death. Panic later engulfs the village when Baby Ahsoka is taken away by a sabre-toothed-tiger-like creature during the hunt. While the villagers assemble to try and save her, the one-year-old was able to save herself by using the Force to connect with the creature and return to the village safely – riding the creature, no less. This episode marks the first time Ahsoka uses the Force and gives viewers better insight into the Tortuga people's rituals and traditions, allowing us to understand how her background has shaped her into the person she becomes later on. 
---
The Start and End of her Jedi Era
The Clone Wars animated movie
The Clone Wars Season 1 Episode 2, 9 and 19
The Clone Wars Season 2 Episode 1-3, 5-8, 11, 12-14
The Clone Wars Season 3 Episode 4, 10, 15-17, 18-20, 21-22
The Clone Wars Season 4 Episode 11-14, 21-22
The Clone Wars Season 5 Episode 2-9, 14-20 
The Clone Wars Season 6 Episode 1-4
The Clone Wars Season 7 Episode 5-8 
In Clone Wars, Ahsoka (voiced by Ashley Eckstein) is in her teen years and is starting Jedi training. At the age of 14, she was granted the rank of Padawan and was assigned to Anakin Skywalker (Matt Lanter) during the Battle of Christophsis. This is the start of Ahsoka and Anakin's close relationship as they work together to rescue Rotta (David Acord) from Count Dooku (Christopher Lee). They even started assigning affectionate nicknames for each other – Skyguy and Snips.
Their relationship continues in The Clone Wars animated series and this is where we see Ahsoka and Anakin go through a lot – separately and together. Not every The Clone Wars episode listed here features Ahsoka but the ones that do show how her and Anakin's dynamics shift and change, and essentially, how they too change as individuals.
The episodes listed also cover important arcs in Star Wars, such as the Holocron Arc, Geonosis Arc, Death Watch Arc, Mortis Arc, Citadel Arc, Trandoshan Arc, The Return of Darth Maul, Onderon Arc, Younglings Arc, Maul Mandalore Arc, Ahsoka's Trial Arc, Order 66 Arc and Martez Sisters Arc.
---
Ahsoka's Return
The Clone Wars Season 7 Episode 9-12
Tales of the Jedi Season 1 Episode 5-6
Ahsoka by E.K. Johnston
After a whirlwind seven seasons, Ahsoka disappears and returns in episodes 9 to 12 for the famous Siege of Mandalore arc. The four-episode arc serves as the series finale for The Clone Wars animated series. Also known as the Battle of Mandalore or the Attack on Mandalore, the battle engulfed the Outer Rim world and marked the return of Former Jedi Padawan Ahsoka. Together with Commander Rex (Dee Bradley Baker), the two led a division of the 501st Legion of clone troopers to stop Sith Lord Maul (Sam Witwer) who controlled Mandalore, reuniting with Anakin once again. Although Rex and Ahsoka were successful, Order 66 was executed so Ahsoka had to fake her death, buried her lightsabers and embarked on a new path.
Tales of the Jedi Episode 5 sees Ahsoka practising her skills while ending with her attempt to escape Order 66. Meanwhile, Episode 6 of Tales of the Jedi sees Ahsoka go up against the Sixth Brother, an Inquisitor. While the episode doesn't explicitly reveal the identity of the Inquisitor, we see a similar storyline play out in E.K. Johnston's novel Ahsoka.
---
Meet the Rebels
The entirety of Star Wars: Rebels 
Star Wars: Rebels is going to be incredibly important as many of the characters in the animated series will be making their live-action debut in the Ahsoka Disney+ series. We're talking about the likes of Ezra Bridger (Taylor Gray), Hera Syndulla (Vanessa Marshall) and Sabine Wren (Tiya Sircar) who will be played by Eman Esfafdi, Mary Elizabeth Winstead and Natasha Liu Borzizzo respectively in Ahsoka. Set five years before A New Hope, Rebels chronicles the early years of the Rebellion's formation. 
---
Ahsoka today
The Mandalorian Season 2 Episode 5 
The Book of Boba Fett Season 1 Episode 6 
The Ahsoka series is set during the same time as The Mandalorian season three and before we get there, we got to see some glimpses of Ahsoka in The Mandalorian and The Book of Boba Fett. For starters, The Mandalorian Season 2 Episode 5 marks Ahsoka's first live-action debut and launches actress Rosario Dawson in the role. In this episode, Din Djarin (Pedro Pascal) asks Ahsoka if she could train Grogu in the way of the Jedi. Here, we see what Ahsoka feels about the Jedi and whether her values have changed after all this while. Ahsoka makes yet another appearance in The Book of Boba Fett Season 1 Episode 6. In this star-studded season finale, Ahsoka returns with Luke Skywalker (Mark Hamill) to take Grogu away and begin his Jedi training. 
---
And there you have it – an incredibly comprehensive list of shows (and a novel) to catch up on before watching Ahsoka when it premieres on 23 August. If you don't have the time to do so, you can check out this much shorter guide on things you should know before watching Ahsoka.